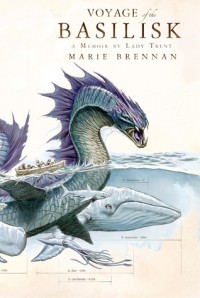 3.5 Stars, borrow
Self Purchase, Kindle edition
First Impression: Seems as well written as the first two
This book is a bit of a mixture for me. There were parts I liked and parts I didn't like. love how the son Jake has joined the cast of characters. I also loved the flying university (group of people who came to study at Isabella's house) however, that was barely discussed and may have been interesting if that part had been developed more. The story becomes briefly humorous when Isabella is forced to marry a woman ( I still fail to see what the point of this was) when the crew becomes shipwrecked on a very isolated island. At first, them being shipwrecked was interesting, but unfortunately the book starts to drag, especially once the crew have been shipwrecked awhile.
Things start happening to Isabella but they are all pretty predictable and not particularly exciting. On the good side, the book does pick back up again once Isabella attempts to ride a dragon and then politics becomes a big factor of the story line. So overall this was not nearly as good as the first book. The second book was a step down from the first, and this was a step down from the second. All that being said though, I still like the series and do hope there are going to be more. I just hope they improve a bit.
Cover: I absolutely adore the covers on this series!