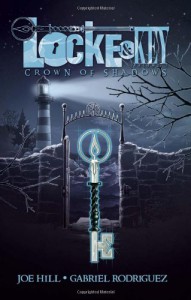 Overall: 4.5 Stars
Star Rating Art: 4 Stars
Star Rating Story: 5 Stars
Self Purchase for Kindle.
First Impression: About the same as the others.
Horror/Weird don't normally do it for me. But I am enjoying this series more than Hellboy or Unwritten interested me. Not that those are Horror or weird but they were one's that didn't hold my attention. I'm even getting used to the weird squishy faces (see my reviews on Vol 1 and 2). The first story a bit boring, just Sam and another Ghosty fighting. The Leonardo Di Caprio reference in the second story was funny. In that issue, a bunch of kids are trapped in a cave. Really liked that story. I Like the dark shadows that appear in fourth story (Maybe also in 3rd, can't remember now).
Love the art and colors (As you can tell the series is growing on me the more of it I read)
Characters: The mother is facinating, though as a child of an alcoholic, I hate her and hate the way she treats the kids. Kinsey, is another facinating character. I sympathize with her as she is the child of an alcoholic. Bode is a really cute little boy. I just want to totally mother him.
Wow. Just wow. This ends on such a cliff hanger. I've already purchased the next volume but I suspect, because of the Harry Potter Group read, I'm not going to get to volume 4 for awhile. But damn that was good.
Quotes: "I think if you cheat in an Ethics class then there's really no hope for you."- Jordan